Xenolith is a 15mm premium solid coloured core laminate and is the ultimate product for long lasting, high quality, low maintenance decorative panels.
What sets Xenolith apart from the rest is its unique coloured core. The coloured core allows for exposed ends with no join lines caused by a laminated edge, matching the colour of choice. With a variety of edge profiles available, 2mm Double Fine Edge, Aris, and Sharknose, gives you design flexibility. The matching core provides an aesthetically pleasing design, offering a cost-effective solution to producing the look of stone.
Available in a unique range of colours gives you flexibility to customise your space suited to any installation or application. Xenolith is offered in four marble patterns: Calacutta D'oro, Calacutta Grey, Marmo di Torre, and Marmo di Monte, each adding a touch of high-end luxury. The modern Grey Cement, White Cement, Portland Stone, and Solid White, makes Xenolith a popular choice for both commercial and residential projects.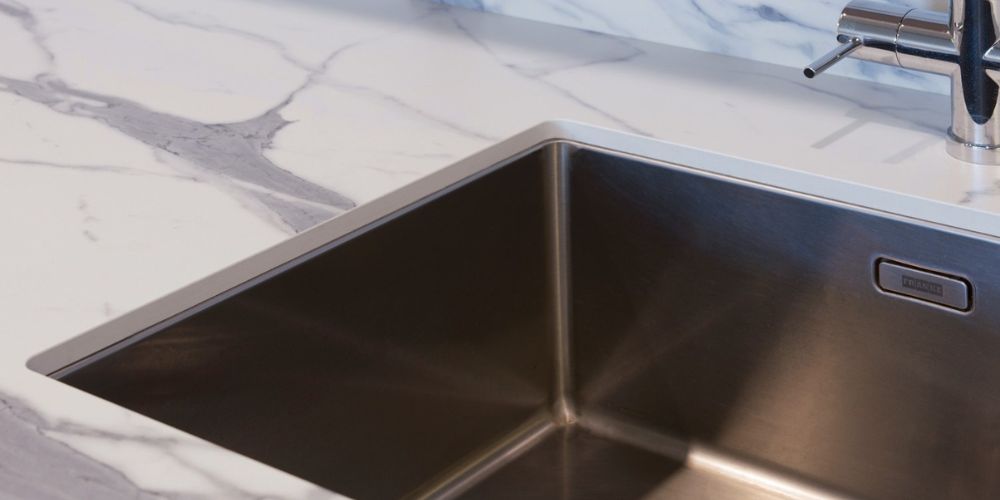 All colours are available in a soft-hygienic and antibacterial Smooth finish in 3660mm x 1830mm full sheets and made-to-order tops up to 4400mm and 1830mm. Xenolith is a premium product suitable for both vertical and horizontal applications including benchtops, vanities, café tops, wet room partitioning, undercover alfresco areas, and more. polytec's Drop Front benchtops & vanities are available in Xenolith and offer a prefinished solution for wet room applications, or can also be used for reception counters, retail counters, and product displays.
The surface of Xenolith is made from stain and water-resistant resin treated decorative paper. The toughness and high impermeable properties of this surface mean that polytec's Xenolith should require no more than wiping with a soft cloth, dampened with plain water to remove common household spills.
For the ultimate long lasting, high quality, and low maintenance product, used in high-traffic applications, choose polytec's Xenolith for your next project.