The Australian commercial property market is booming. According to international property consultants Preston Rowe Paterson in their first half 2018 Office Market Report, nearly all capital cities are showing strong signs of growth. Sydney and Melbourne's strong rental markets lead the way, with Brisbane, Perth and Adelaide showing signs of improvement which are expected to pick up further throughout the year. Per reports, over the next two years we will see continued growth with new developments adding approximately 1,200,000 square metres of new office space into major central business districts. Preston Rowe Paterson highlight that 46% of this new space will be added to Melbourne's office market, while significant proportions will also be added Sydney and Perth.
This trend in commercial rental markets reflects Australia's healthy economy and, with more businesses establishing themselves in Australian capital cities, there is increased competition between companies as well as within the architecture and design industry. Innovative, stylish and well-designed workplace environments are being used to attract and keep staff. Furthermore, companies are using design quality as a tool to enhance interior spaces to excite their customers.
This elevated focus on workplace design and commercial fit outs means designers are under more pressure to deliver commercial interiors that are multi-faceted, with layers of functionality, and sophisticated, modern style and aesthetics. Achieving this within strict time, cost and resource constraints challenges designers to seek new, versatile solutions that deliver high quality performance, unique character and natural warmth to interior spaces while being accessible, affordable and easy to use.
Steccawood by polytec is one such design solution for commercial fit outs. Steccawood pre-finished decorative battens are ideal for wall and ceiling applications in either vertical or horizontal orientations. Providing organic warmth and rich texture for a wide variety of panelling, this natural timber alternative is ideal for any style, from traditional designs to modernist interiors. With Steccawood, strong directional lines can be added to an internal space, allowing designers to create striking, memorable features with ease.
Ideal for commercial fitouts, potential applications of Steccawood include:
Walls
Ceilings
Screening
Limited Furniture
Retail spaces, restaurants, bars and hotels have used Steccawood to create inviting interior environments for their customers without compromising on space or functionality. It may also be used to give character or as a clever visual feature in otherwise neutral office spaces. The product may also be used to achieve sweeping interior transformations. For example, in the Central Coast's oldest shopping mall, six thousand lineal metres of Steccawood ceiling battens were used as part of a major building upgrade to create a dramatic feature throughout the interior. Meanwhile, Telstra has recently implemented a nation-wide rollout of the Steccawood product in all of their Australian stores. On a smaller scale, Steccawood panels may also be used as a screen divider, separating rooms into multi-use areas such as a sitting area beside a foyer entrance, or a break out area next to standard work desk space. Steccawood's adaptability is core to its appeal.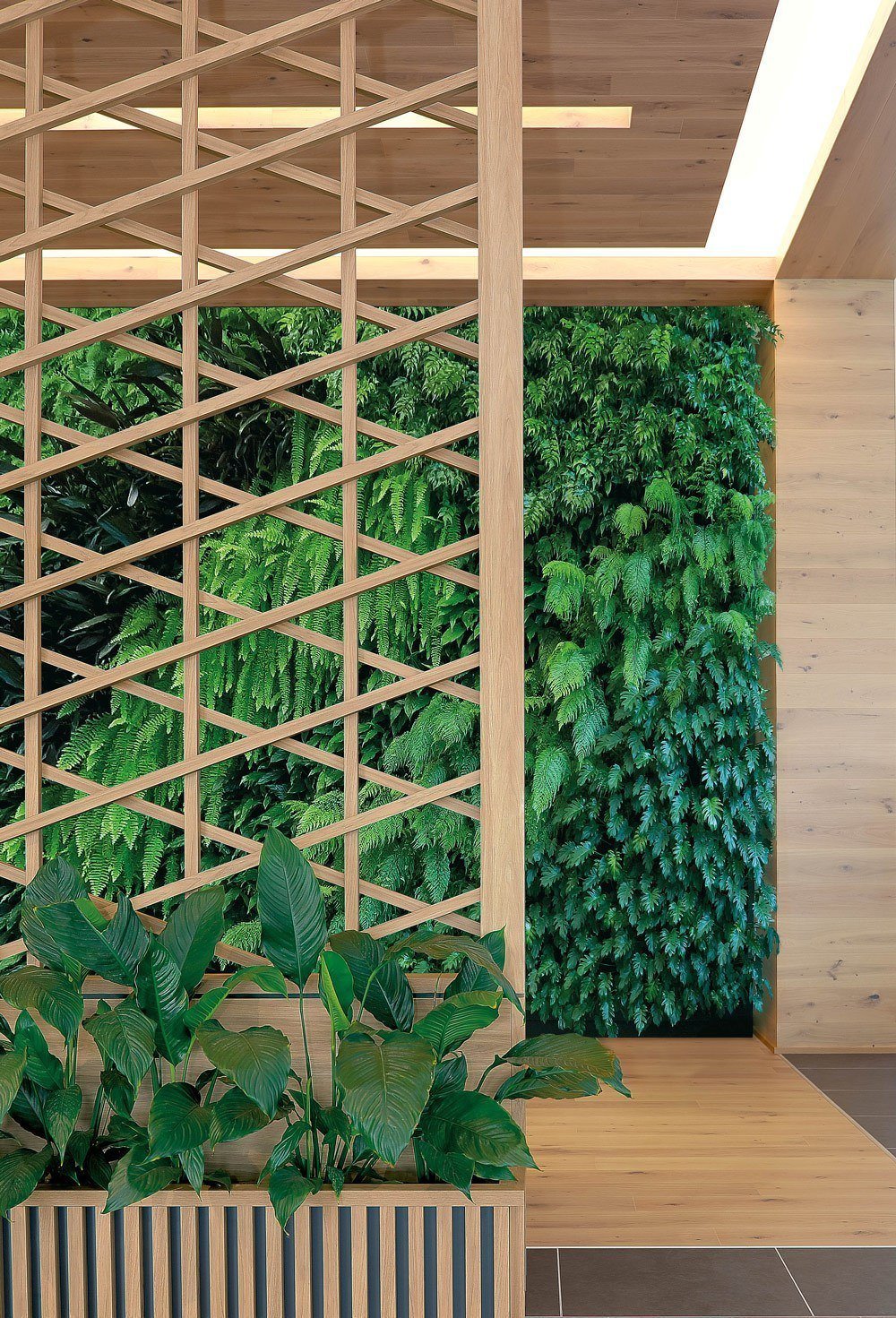 polytec manufactures Steccawood in Australia from E-Zero medium-density fibreboard (MDF) material wrapped in decorative overlay. These battens impart the realistic warmth and character of timber without sacrificing on performance. With a high level of durability, this MDF solution is suitable for most internal applications as a practical alternative to natural timber. As Steccawood is also fire rated Group 3, for most projects it will be compliant with the fire performance requirements set out in Australian building regulations.
Cost effectiveness, ease of use and design flexibility are some of the most important issues for designers and clients, and in this area Steccawood excels. The pre-finished nature of polytec's decorative battens means there are no manufacturing costs. As it comes ready to fabricate, installation is a fast and simple process that can help project managers alleviate time and cost pressures. Fully-wrapped battens and convenient sizing (battens are supplied in a 3600mm length and available in 31mm x 31mm, 17mm x 38mm, 17mm x 65mm, 31mm x 65mm, 50mm x 70mm, 40mm x 100mm, and 50mm x 100mm as well as made-to-order) add further convenience during installation.
Steccawood comes in twelve matching colours and is also available in matching board and laminate, providing designers a high degree of design flexibility. polytec provides a range of colours and finishes, from the natural Nordic Oak and Florentine to deep black and/or white finished, giving designers freedom to achieve a variety of aesthetics. Matching colours allow designers to preserve continuity throughout the same space or project.
Article written on behalf of polytec by Architecture and Design. Original source: https://www.architectureanddesign.com.au/suppliers/polytec/form-function-and-style-how-polytec-steccawood-add